WILD GAME DINNER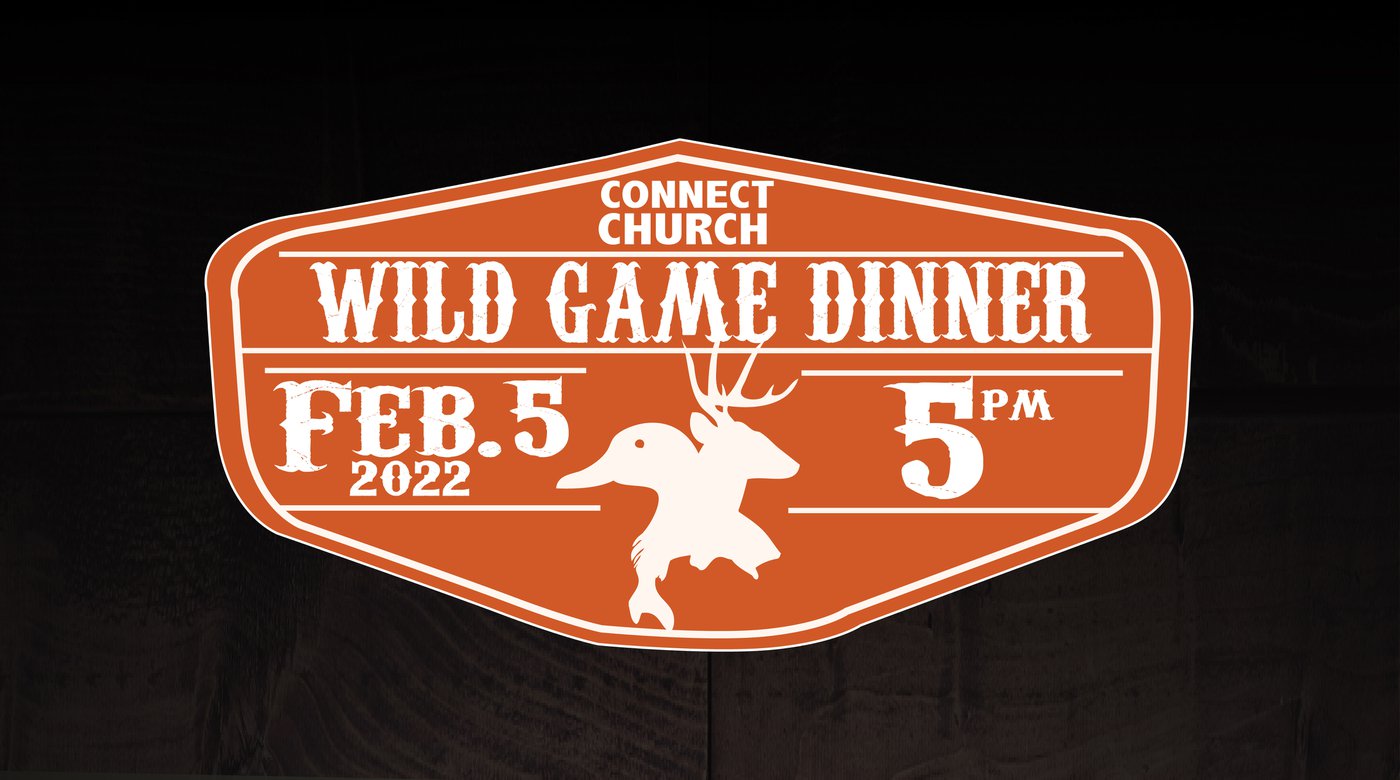 Saturday, February 5, we will have our annual Wild Game Dinner. Wild Game Dinner is a night full of great food, tons of giveaways, an exciting speaker, and an excellent opportunity to invite your friends to hear the Gospel. That's why we encourage you to buy a ticket for yourself and a ticket or tickets for others that you can bring with you.
Each ticket is $10. If you'd like more information about Wild Game Dinner or would like to purchase tickets, you can let us know here.
WILD GAME DINNER CHILI & SOUP FUNDRAISER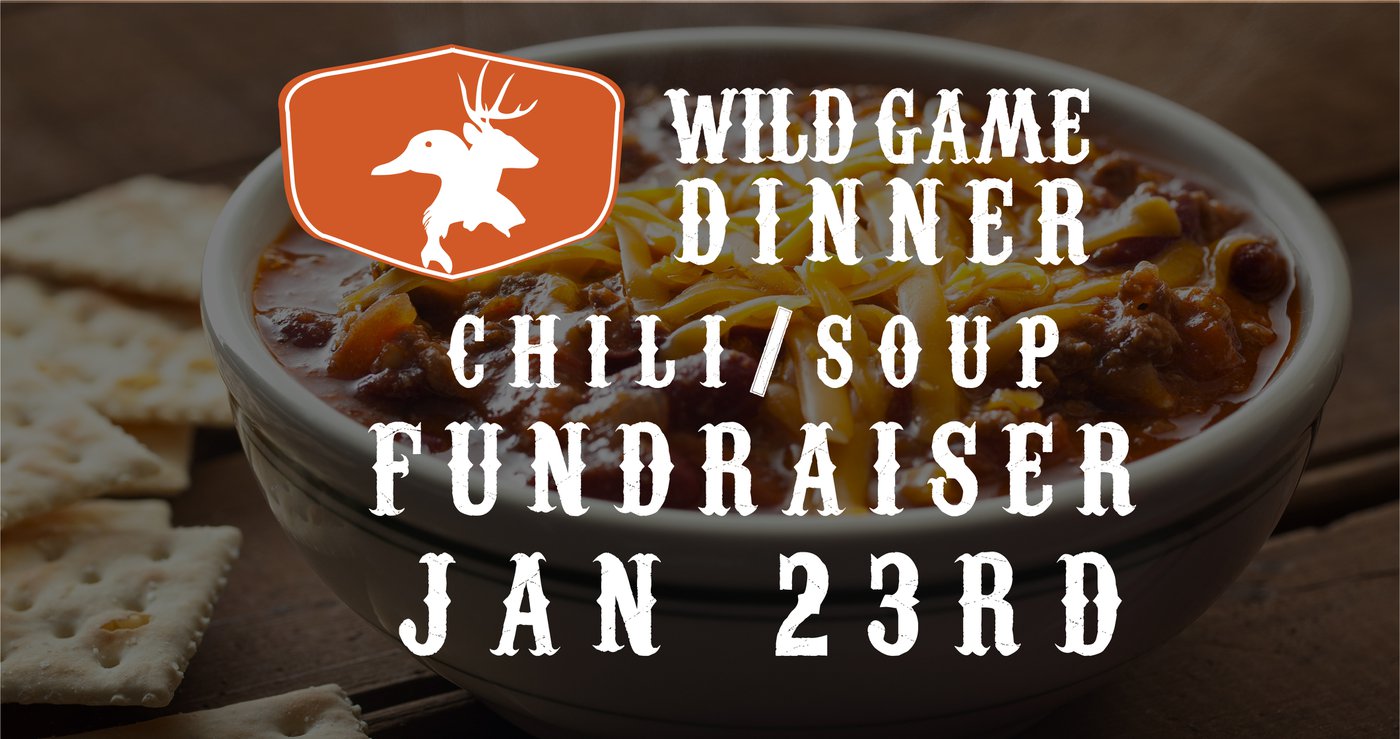 Sunday, January 23, is our chili & soup fundraiser for the Wild Game Dinner! Immediately following our worship gathering join us in the Fellowship Hall for Chili & Soup. You're welcome to stay and eat here at the church or if you're in a hurry, take it to-go. Either way, come hungry. 😁

P.A.T.H. TRAINING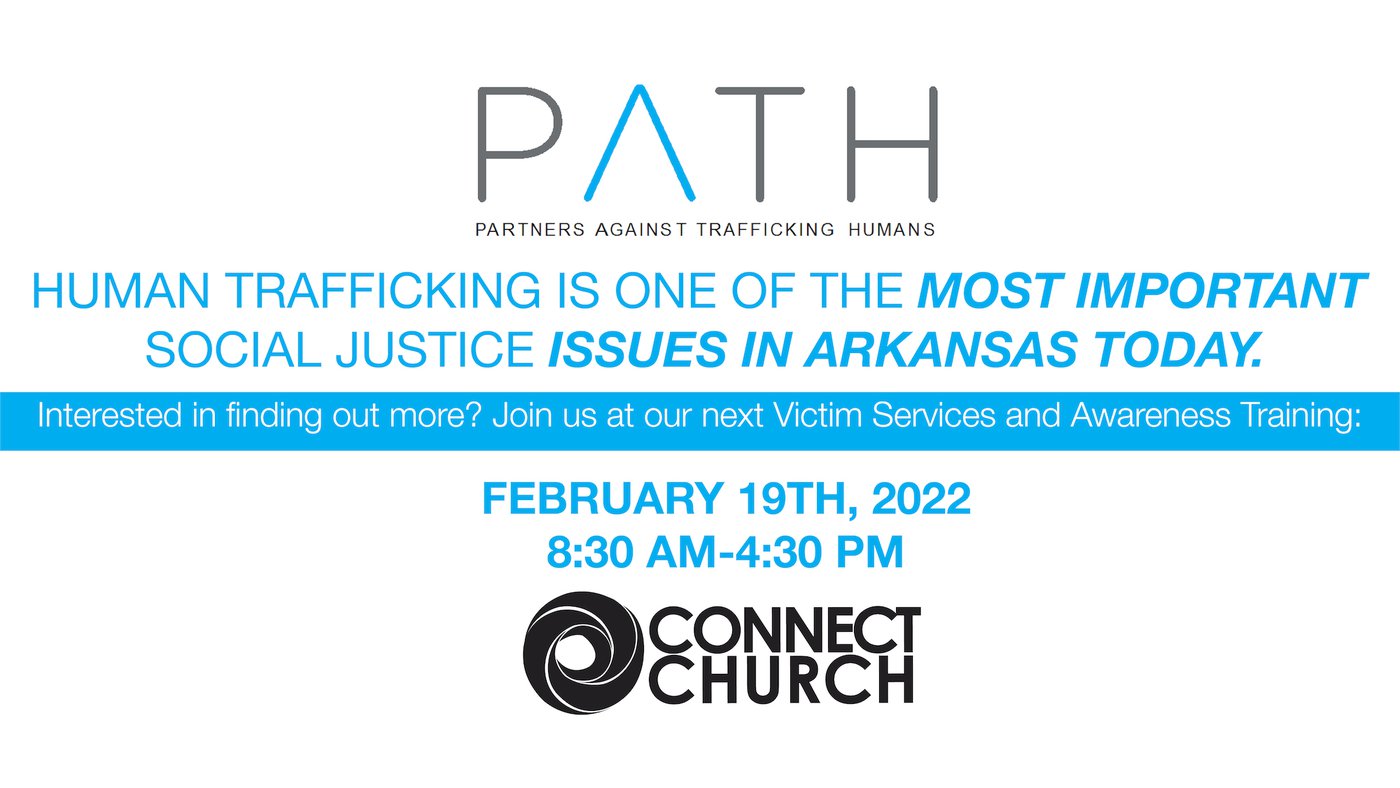 Several months ago, some of our staff & Church family had the opportunity to attend an education & awareness training with P.A.T.H.
Partners Against Trafficking Humans (P.A.T.H.), is an organization that strives to provide a program of restoration and community reintegration for rescued victims of human trafficking and sexual abuse through a variety of Christ-centered programs and services, all delivering hope for healing, personal growth, and future success.
Human trafficking is a very real and prominent problem right here in Arkansas, with the average age of victims being 13 years old. Connect Church has been working alongside P.A.T.H. and has seen firsthand the hurt and pain that trafficking inflicts on the victims and all of those surrounding them.
On Saturday, February 19th, from 8:30 am-4:30 pm; we will host a P.A.T.H. Victim Services Training. The cost is $60 per person, covering all the materials, breakfast, lunch, and snacks. Payment will be collected on the day of the training at the door.
You can find additional information including the training topics, registration, and more here.
We are to be light in the darkness and want to bring those in need of rescue, restoration, and hope to the True Light. If you have any questions about the training that we can help answer, let us know.

MARRIAGE RETREAT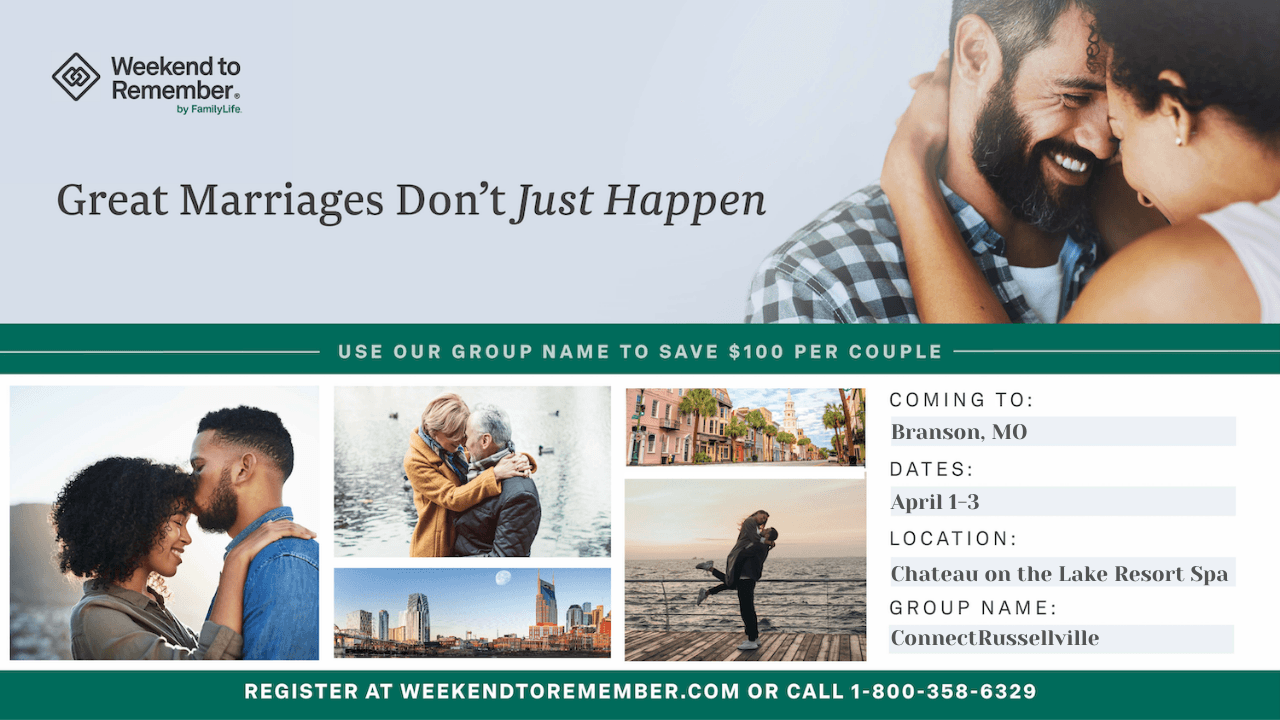 Recently, Pastor Blaine mentioned an upcoming Marriage Retreat for our church family and families throughout the River Valley, and registration is now available! A Weekend to Remember Marriage Retreat is April 1-3 in Branson, MO.
Here's a quick glimpse from FamilyLife Ministries:
"The Weekend to Remember Marriage Retreat is for couples ready to invest in their marriage and intentionally move towards oneness. To help you understand God's blueprint for marriage so you can create a legacy of greatness.
Marriage is a lifelong adventure of growing together through every age and stage of life. The happiest couples are those who commit to learning skills that help them weather difficult seasons and deal confidently with relationship challenges.
Timeless biblical principles provide the tools to help all relationships. For more than 42 years, we have witnessed healing, restoration, and reconciliation. Everyone is welcome: the divorced, the on-the-verge of divorce, the deliriously-in-love, the betrothed, the newlyweds, the wise, and the seasoned.
This getaway begins Friday evening and continues through noon on Sunday. It's filled with informative group sessions and alone time with your spouse."
You can find the itinerary, pricing, registration, & more at https://connectionpoint.info/retreat.
*If you register before January 24th, the price is reduced to $175/couple. Use the group name: ConnectRussellville
We are FOR Christ-centered, healthy marriages. If you have any questions that we can help with, let us know here.

#FORtheRiverValley
We believe the best ways we can love our city is to serve our neighbors, pray for them, and for us to grow more like Jesus.
We want to help our community find and follow Jesus.
We want them to know that Connect Church is FOR them and, most importantly, God is FOR them.

CONNECT GROUPS
Connect Groups meet throughout the River Valley to discuss the weekly Bible Study and spend time praying, laughing, eating, and growing more like Jesus together. In these groups, we are having conversations and identifying ways to directly apply what we're learning from His Word at our jobs, our homes, our schools, gyms, neighborhoods, and wherever else we find ourselves throughout our week. Not only are we FOR the River Valley, we are FOR each other.

CONNECT 20
We hope you'll take advantage of all that Connect 20 offers as we grow more like Jesus through worship, prayer, His Word, and application.

GIVING
We want to thank you for your continued giving. Your giving matters and goes further now, perhaps, more than ever! Ministry continues throughout our community and around the world. Let's continue making a difference in the lives of others by giving our tithes and offerings.
Here are a few ways that you can give at Connect Church:
You can give online through https://connectionpoint.info/give. If you would like to set up a recurring option, let us know. We can help you through that simple process.
You can drop the check off at the church in the giving kiosks or in the mailbox located next to the office entrance. (This mailbox is right next to the steps of the office entry.)
You can mail the check to the church. 1103 E L Street, Russellville, AR 72801

Something We Can Help With?