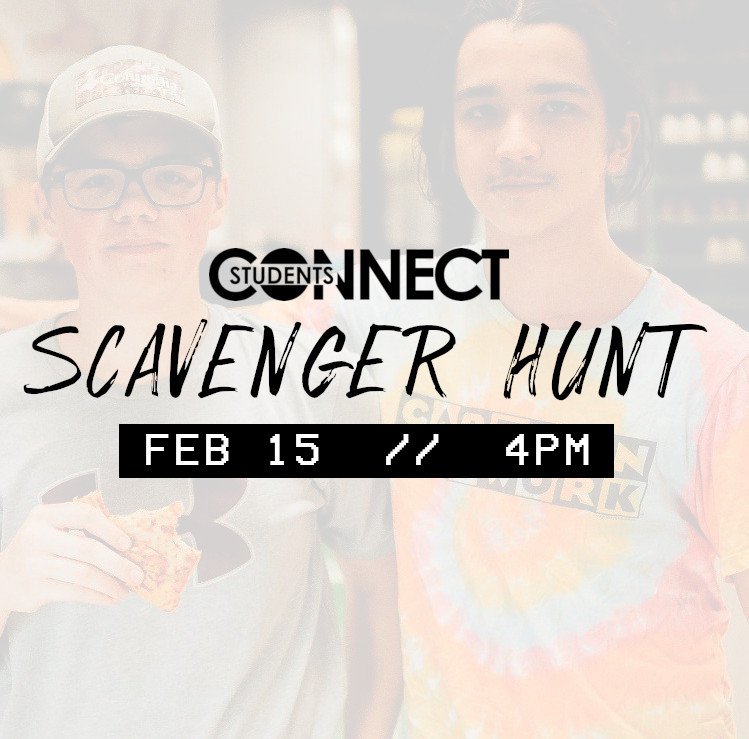 We'll meet at the church for a Scavenger Hunt of February 15th at 4PM! This is a great opportunity to invite your friends! Make sure to Register below so we can plan appropriately.

PARENT NEWSLETTER SIGN UP!

"CONNECT STUDENTS EXIST TO CHANGE STUDENTS' LIVES THROUGH JESUS. WE DO THAT BY CREATING FUN ENVIRONMENTS, BUILDING RELATIONSHIPS AND TEACHING STUDENTS ABOUT JESUS ON THEIR LEVEL"
Connect Student Ministry is a weekly gathering on Sunday mornings at 9a & Wednesday Nights at 6:40p.
Sunday Mornings are designed around Bible Studies. We dig deep to help apply the word to their everyday life.
Wednesday Nights are designed around Worship, Games, and a 25-30 min message on a current theme. The first Wednesday Night of the month we have small groups. All students are in groups of 4-5 with an adult as the leader. They answer everyday questions to "How to study?", to what does "Jesus mean in my life?"
Simply put…. Helping Students Find and Follow Jesus

Email Us: Teenagers can be confusing. One minute you are pulling your hair out and the next you're hugging them. Need some help? Got a question? We're here for you. Email us below or fill out the form with any questions.