Updated: November 12, 2020
Following our Federal, State, and Local government guidelines, we are facilitating a phased gathering plan for our church. All of our dates are tentative and will be finalized based on guidelines from our city and local government. Additionally, please note, our Phased Gathering Plan does not coincide with the state's Phased Reopening Plan.

On-Campus Worship
On-campus worship services resumed on Sunday, June 28th. We continue to monitor suggestions from both State & Local government as we methodically navigate our in-person services.
Here's what to expect at this time:
Worship Service
We will have one service (in-person & online) at 10:30am.
For social distancing purposes, in our facility, we will be gathering in the Event Center/Gym.
Connect Kids
Connect 567 / Students
567 meets each Wednesday at 5:30pm.
Connect Students meet each Wednesday at 5:30pm.
*Please remember your mask.
Bible Studies for Students & Adults
Connect 567 & Students will discuss the weekly Bible Study video each week as part of their Wednesday night events. We encourage your family to watch and discuss together, too!
Throughout the week our Community Groups are meeting in homes or on Zoom (parents with young kids-we got you 😁) to discuss our weekly Bible Study. In these groups we have conversations and identify ways we can directly apply what we're learning from God's Word at our jobs, in our homes, our schools, gyms, neighborhoods, etc. If you're interested in a Community Group, let us know here.

__________
• We encourage online giving at ConnectionPoint.info/give. You can still mail, drop-off, or give in-person during our worship services. (offering plates will be available at the exits as you leave).

Social Distancing Practices
Personal Contact
We realize that everyone will be very excited to see each other, but please refrain from handshakes, hugs, and any other physical contact in order to reduce the spread of germs. Though you may be comfortable with these expressions, others may not, so we want to help everyone avoid awkward social situations in order to make everyone feel safe and comfortable at church.
Seating
We will adjust seating in our Event Center to best accommodate our church family and maintain proper social distancing.
Cleaning & Sanitizing
We are making extra effort to ensure our facility is thoroughly cleaned when you arrive on campus.
Our teams will clean throughout the worship service - cleaning bathrooms, door handles, common areas, etc. to ensure your health and safety.
We will have multiple hand sanitizing stations for your convenience.
Only the Event Center/Gym will be open. Classrooms, Kids and Student Ministry areas, other restrooms, etc. will be unavailable.
Café
At this time, we will not be offering any coffee or food services. This is to limit physical contact with others.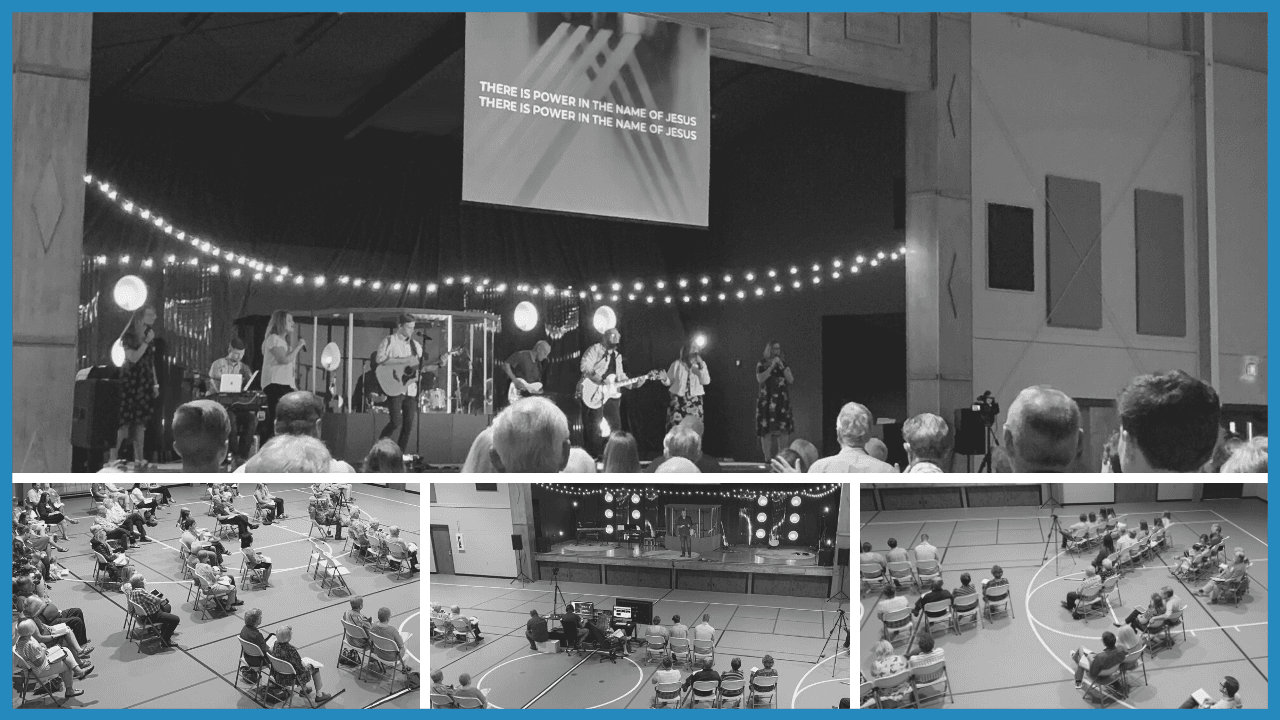 Health & Safety
If you have been diagnosed with an active case of COVID-19 or have recently been exposed to COVID-19, please stay home and worship with us online.
If you are sick or symptomatic (cough, shortness of breath, fever, chills, muscle pain, sore throat), please stay home and worship with us online.
If you have existing health issues that would put you at greater risk, please consider remaining at home and worshiping with us online.
We know the government guidelines are encouraging older adults to remain home until a later phase of the process. We do not want our older adults to feel pressured to attend worship service on-site if they're uncomfortable. Please continue to worship online with us until you feel safe to join us in person. If you do choose to join us in person on Sundays, you will be welcome to do so. These are just suggestions made with your best interest in mind.
PPE (Personal Protective Equipment)
In accordance with State guidelines, we ask that you wear a mask at all times unless you are exempt under ADH guidelines.

Frequently Asked Questions
» Is Connect Church open?

Yes, Connect Church is still available for phone calls, messaging, and care during regular office hours. However, our buildings are not open at this time.
» How can I receive care?
For prayer, counseling, or other needs please call (479) 968-6966 or
Click Here.
» How can I continue giving if I'm unable to attend worship gatherings?

Online Giving
is available for your convenience.
Mailing Information:
Connect Church
1103 E L Street
Russellville, AR 72801
» What are your recommendations for Small Groups and In-Home Gatherings?
We recommend that each Small Group and In-Home gathering take the following precautions:
» Adequate location to allow appropriate social distancing (6 feet)
» Limit personal contact (i.e. avoid hugs and handshakes at this time)
» Appropriately clean area before meeting
» Have adequate access to soap and water or hand sanitizer
» Provide only pre-packaged food or beverage (i.e. bottled water)
» Should I attend a gathering in-person?
Please take a minute to review the following questions:
» Have you had a cough, sore throat, shortness of breath, and/or fever above 100.4 F in the last 72 hours (3 days)? (Please note fever resolution must be without the aid of fever-reducing medication)
» Have you been around anyone with these symptoms in the past 14 days? (cough, sore throat, shortness of breath, and/or fever above 100.4 F)
» Are you living with anyone who is sick or quarantined?
» Have you traveled anywhere that has a significant number of new COVID-19 cases, or is considered a COVID-19 "hot spot," in the last 14 days?
» Do you live with, or have frequent contact with, someone over 65 or has a serious underlying health condition?
If you answered "yes" to any of the above questions, we ask that you participate virtually for the following two weeks. Those that are 65+ and/or those with serious underlying health conditions should consider participating virtually until Phase 3.