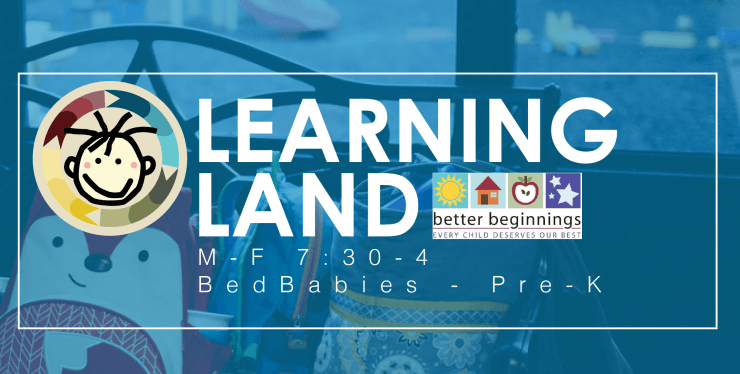 Learning Land is a state-licensed facility that reflects Connect Church's concern for the religious education of children, 2 months through 5 years of age. During the first six years of life, children form their basic patterns for handling life. Our goal is to provide an educational program that nourishes the needs of the child and emphasizes growth in all areas- physical, mental, emotional, and spiritual- as a continuous, interrelated process.
ADMISSION:
Our desire is to reach as many children in the community as we can until we reach state-imposed limits in each classroom. At that time, a waiting list will be established, and vacancies filled from it.
PLACEMENT:
Children are placed in classes based on their age as of August 1st of the current school year. This is consistent with the Arkansas Public School Placement Regulations.
LEARNING LAND CURRENTLY OPERATES THE FOLLOWING ROOMS:
Bed Babies: 2 months to 12 months
One-Year-Olds: 12 months to 23 months
Two-Year-Olds: 24 months to 30 months
Three-Year-Olds: 3-4 years of age
Pre-K: Children attending Kindergarten the following school year
HOURS OF OPERATION:
Learning Land operates from 7:30am to 4pm, Monday through Friday.
FEES:
There is a $ 45.00 non-refundable registration fee for each child who enrolls in Learning Land. Additional children in the same immediate family will be charged a discounted fee of $25.00. The registration fee is a once-a-school-year charge. There is also a $50 supply fee twice a year for each child.
The cost of the program is
$30.00 per day for bed-babies (2 months – 18 months)
$28.00 per day for 18mo-3-year-olds
$27.00 per day for Pre-K.
DAILY ROUTINE:
Your child's day will include time in the classroom in learning centers (if applicable), group time, snack time, outdoor/gym play, story and music sessions, lunch, and a rest time. We cannot wait to introduce you to the best in Child Care.
Contact Learning Land
479.968.3007