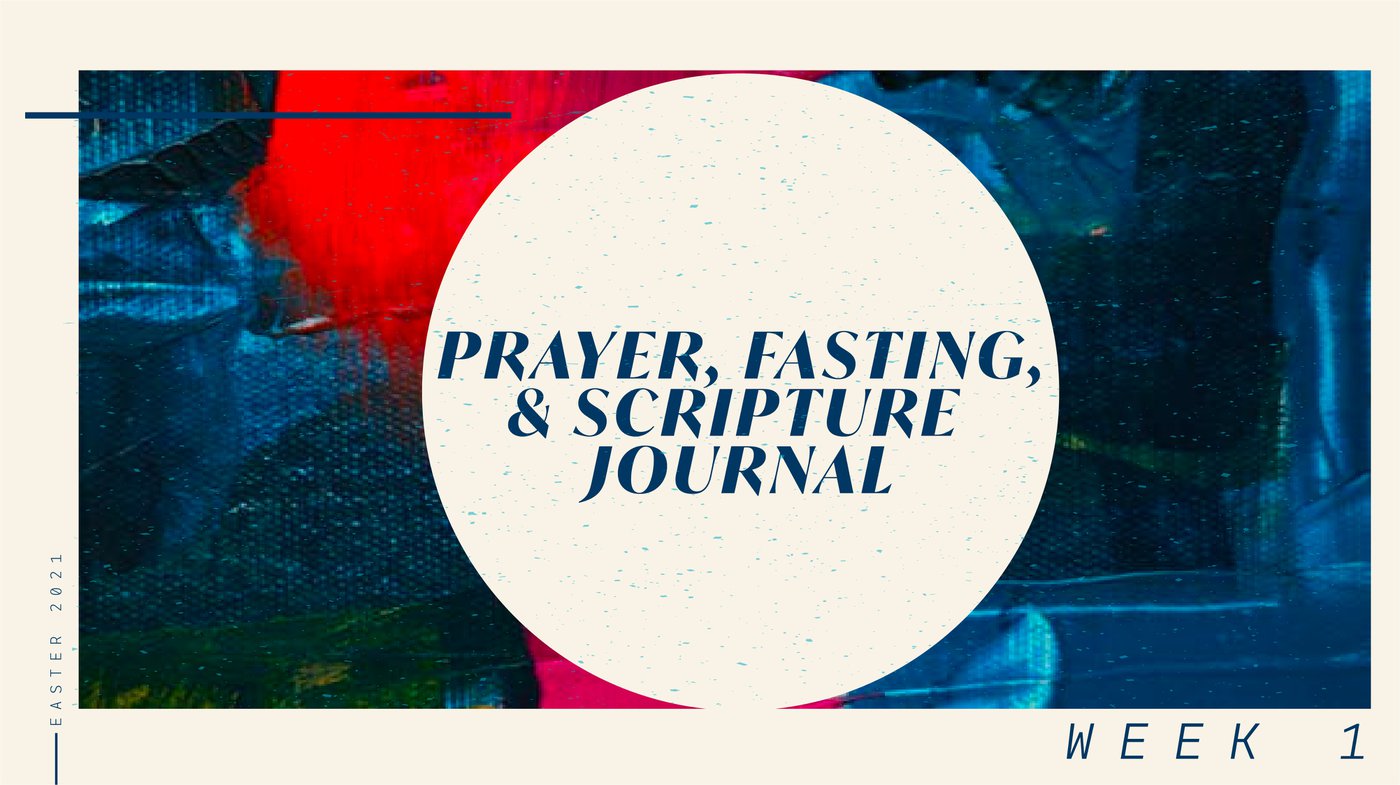 Begin each week with our Prayer, Fasting, and Scripture Journal. We'll follow a theme from the life and ministry of Jesus on His journey to the cross and His resurrection— The Benefits of Jesus, Salvation of Jesus, and how to Live as Jesus. We'll help you choose a fast, learn from a daily scripture reading (Connect 20), and keep track of your daily journal.
Weekday practices
1. CHOOSE YOUR WEEKLY FAST
We're beginning our Journey to Easter with the most basic kind of fast — a food fast. Your first step is to decide what it is you're going to give up this week. Here are some options for your consideration:
» Give up one meal every day this week
» Water/juice only one day this week*
» Give up a particular food or drink item
» Sweets (or sugar)
» Coffee (or caffeine) » Bread (or carbs)
*If you choose water/juice only for more than a day, be sure to consult your doctor ahead of time.
Once you've chosen your fast and the duration, tell a friend for accountability.
2. PRAY DAILY PRAYERS
THEME: The Benefits of Jesus
"(I pray) that Jesus may dwell in your hearts through faith—that you, being rooted and grounded in love, may have strength to comprehend with all the saints what is the breadth and length and height and depth, and to know the love of Christ that surpasses knowledge, that you may be filled with all the fullness of God." - EPHESIANS 3:17–19 (ESV)
Use this prayer to kickstart your prayer every day this week. Write down all you sense God is showing you.
3. READ YOUR DAILY SCRIPTURE
THEME: The Benefits of Jesus
Psalm 103:2 says, "Bless the LORD, O my soul, and forget not all His benefits." It is so easy to lose focus and forget the benefits of Jesus. As we grow in Christ, we recognize the benefits keep coming and deepening. We will look at the multiple ways we are blessed and benefitted by our personal relationship with Jesus.
7 steps to connect
Each day we want you to CONNECT with Jesus through prayer & His Word. Here's a great resource as you read the passage each day. Make sure to take notes in your journal as you read through the scripture.
C
all: Pray for open eyes.
O
bserve: Read the text.
N
otice: Notice the emotions, reasons, context; why did God provide this for them?
N
ote: What does God want me to know/do; takeaways; why is this here for me?
E
xplore: Examine the areas of your life that God needs to come under the truth.
C
ommit: Pray and surrender that part to God.
T
ell: Share what God is teaching you with others intentionally.

👋 Looking for a printable version of Prayer, Fasting, & Scripture Journal? Download it here!

the weekly connect 20 worship playlist
Here you can listen to the weekly Connect 20 worship playlist as you walk through Connect 20, your neighborhood, your morning routine, or any other time in your day you want to worship God through song!
YouTube
/
Spotify

HOW CAN WE HELP?