We Are FOR the River Valley
We believe the best ways we can love our city is to serve our neighbors, pray for them, and for us to grow more like Jesus.
We want to help our community find and follow Jesus.
We want them to know that Connect Church is FOR them and, most importantly, God is FOR them.

PRAYING FOR OUR COMMUNITY
We have set a goal is to pray over every street in Russellville by April 2022. Every time we cover a street in prayer, we're going to add it to our map above. The best part, you can do this on your own, as a family, or with your Community Group! If you encounter someone on the street or working in their yard, take the opportunity to ask them if you can pray with them since you're already praying for them. 🙂
After you pray, make sure to let us know using the form below so we can add it to the map. This way all of our church family can see where we have been and where we're headed.
what streets did you pray over?

SERVING OUR COMMUNITY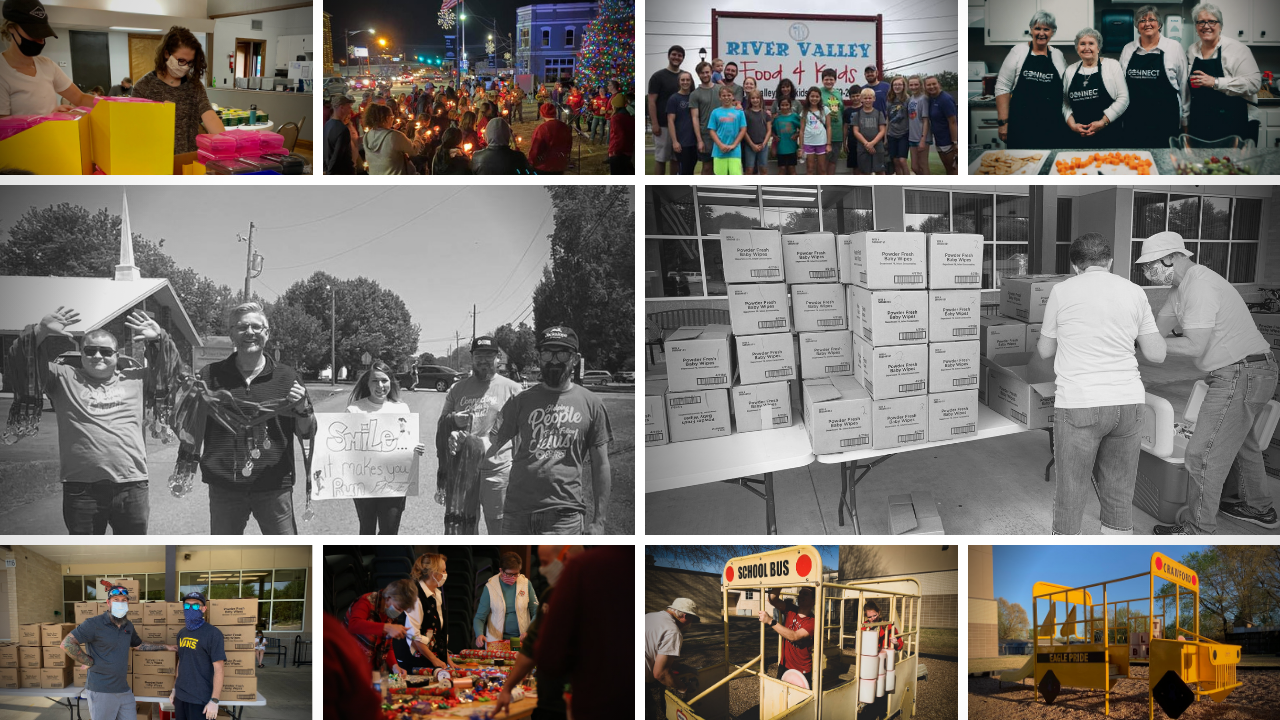 We believe that God is calling every believer, out of gratitude and joy for Him, to carry the Gospel into their community! Practically that looks like meeting the needs of people in our neighborhoods and communities—It's the simple acts that open hearts to Jesus for both those being served and those serving.
Whether it's preparing weekend lunches for Crawford Elementary families, providing food & hygiene products in our iMPACT Shack, giving families a Christmas option through our annual Hope Shop, or one of the many other ways we serve our city throughout the year- we want our community to know God is FOR them by how well we serve them.
If you're interested in serving through Connect Church, let us know at [email protected].

GROWING MORE LIKE JESUS THROUGH COMMUNITY
Community Groups meet throughout the River Valley to discuss the weekly Bible Study and spend time praying, laughing, eating, and growing more like Jesus together. In these groups, we are having conversations and identifying ways to directly apply what we're learning from His Word at our jobs, our homes, our schools, gyms, neighborhoods, and wherever else we find ourselves throughout our week.
Every Monday, we upload the weekly Bible Study video at ConnectionPoint.info/ondemand. Before your Community Group meeting, we encourage you to watch the Bible Study. This allows more time to be spent on the conversation and application.
Meaningful relationships are increasingly difficult, especially during this time. Community Groups are a great way to bring people together as they take steps toward Christ. You can grow in a relationship with others, to Jesus, and live life in community rather than alone. If we're growing more like Jesus, with people who are growing more like Jesus, we're going to be empowered and encouraged to help people find and follow Jesus!
If you'd like more information about joining or leading a Community Group, let us know at [email protected]!